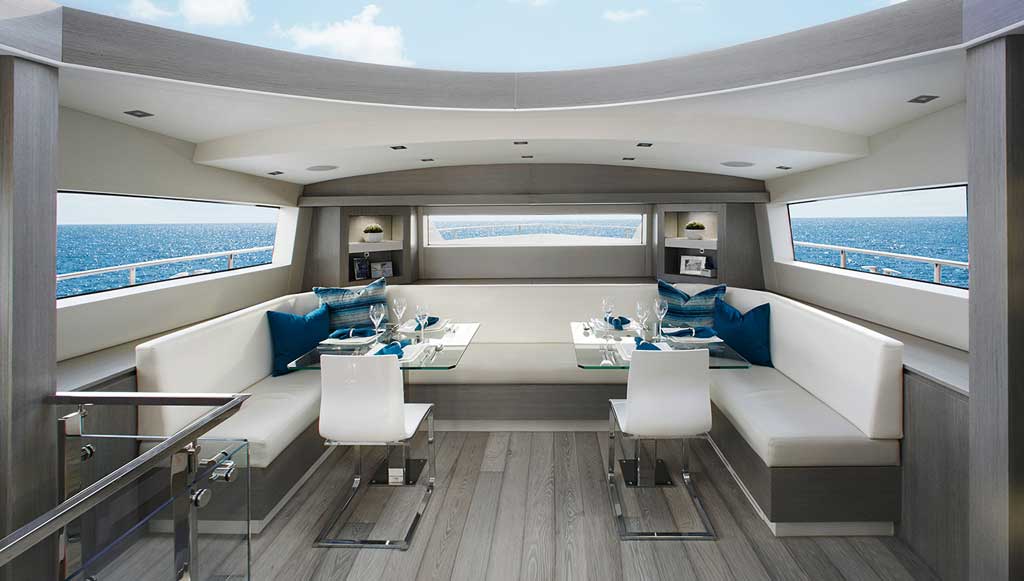 Photo By: @HatterasYachts
The Hatteras tradition all began back in 1959 when Willis Slane envisioned building a boat that could conquer the waters of Diamond Shoals and surmount the weather of Cape Hatteras. Diamond Shoals is home to some of the most violent and unstable waters in the Atlantic but is also home to some of the best sportfishing on the planet. To be able to fish and survive in these conditions, Slane's boat would have to be very powerful and rugged. He knew that he had to do something different to achieve his dream so he chose a new material known as fiberglass to build his boat. The result was a 41-foot fiberglass sportfisherman that revolutionized the industry.
Soon after, the market was in demand for bigger boats so Hatteras began building sportfishers from 50 feet up to 105 feet. From that original breakthrough boat to each cutting-edge yacht that has followed, Hatteras has provided a world class level of craftsmanship dedicated to perfecting each and every detail and surpassing all expectations. You can see the championship spirit in the Hatteras brand by the obsessive work of the entire team that pours their heart into building every single legendary yacht.
Hatteras Yachts pride themselves in the innovative approach they take. Although they have built the first fiberglass vessel and pioneered the convex modified V-Hull, Hatteras continues to focus on what is next.
Today, Hatteras's modified convex V-Hull allows for optimal performance under a wide range of harsh conditions. The double chine and side step outs offer a dryer ride as well as create more interior space. Hatteras has designed their own multi-bladed hybrid propellers that improve the fuel efficiency, reduce vibration, and provide a smooth quiet ride. Custom finishing and design is available throughout the entire boat to ensure every moment aboard a Hatteras reflects one's personal vision and a pursuit of life without limits.
Recently, Hatteras Yachts has been proud to announce that its new 70 Motor Yacht made the Robb Report's "Best of the Best" awards list for 2016. The noteworthy yacht has an inspired Mediterranean style and a legendary performance. Robb Report called the yacht "sexy" in recognizing the success of transforming and elevating the appearance of the Hatteras motor yacht series. The yacht contains an expansive flybridge with multiple seating options and sunbathing area. Surrounded by panoramic windows, the Hatteras 70 features an open concept deckhouse salon and galley arrangement that sets a new standard of excellence. Down below are a full master suite, a VIP suite, and two guest staterooms which all are elegantly designed and furnished.
To read more about Hatteras Yachts and its new award winning 70 motor yacht, please see the link below.
Leave a Comment