HydraSports Custom 53' Suenos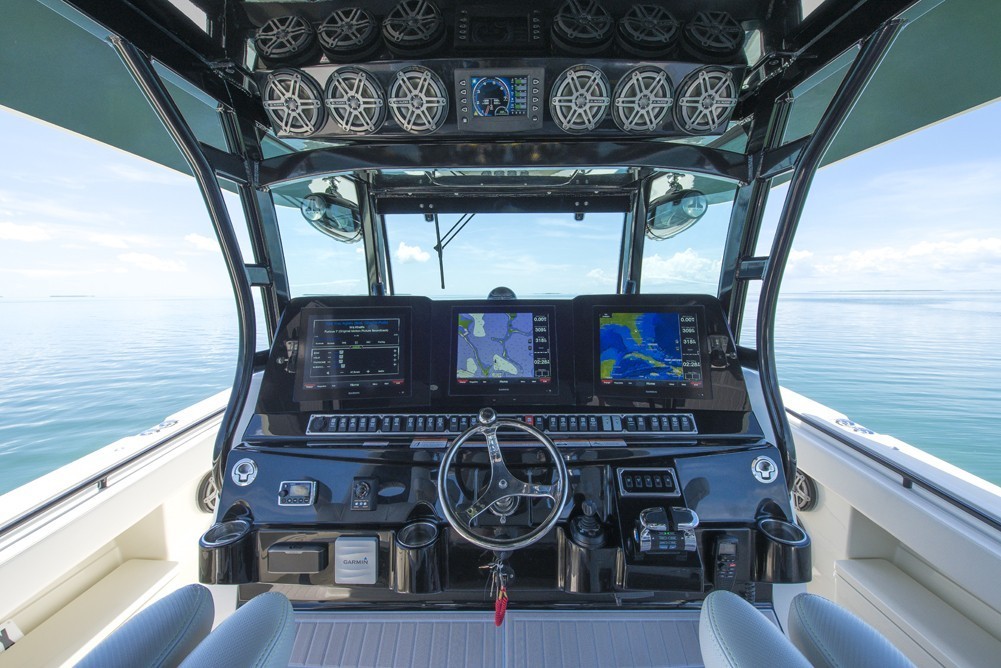 Have you ever wondered what the biggest and nicest center console boat looks like? In February of 2016, Hydra-Sports released its new Custom 53' Suenos Center Console. It debuted at the Miami International Boat Show where it won an innovation award. In the world of center console boats, the 53' Suenos is the king. On the water, it makes other center consoles look like tenders.
Its list of features and capacities — 1,000 gallons of fuel, 400 gallons of fish boxes, 100 square feet of cockpit — reads like the brochure for an offshore battlewagon. In fact, this enormous yet graceful vessel carries a Structural Composites MIL-TOUGH rating; its pedigree began with a Navy design. The 5300 Sueños gained immediate acclaim with its quad Seven Marine 557s. As the largest outboard-powered center-console boat built to date, it represents the culmination of a dream for HydraSports. Built traditionally, a 53-foot center-console would have weighed at least 40,000 pounds. The vessel's current dry weight with quad 557s is 28,323 pounds — impressive, particularly compared with the 4200, which weighs 23,000 pounds, powered by quad Yamaha F350s.
The 5300 also plays host to numerous practical innovations that make it user-friendly for anglers. The Suenos's practical design of the twin transom livewells makes it easier for fishermen as the openings are big enough so that you can drop a cast net inside to shake out the bait. Fed by Rule 2000 pumps inside air-purging sea chests, the wells become pressurized when you close gasketed covers to eliminate sloshing that can injure bait. To control overflow, uniquely designed scuppers along the aft rim of each well channel any excess water overboard. Acrylic windows wrap around the radius of each well, letting you keep a watchful eye on your liveys from just about any angle.
One of Hydra-Sports main focuses was making sure everyone stays comfortable while fishing aboard the 5300. That starts with a smooth ride, made possible by a 60-degree entry to knife through seas, an exaggerated Carolina flare to toss spray aside, and 23 degrees of deadrise at the transom. From the deck between the bow loungers, a motorized platform rises on twin pedestals to form a huge forward sun pad or you can raise the platform higher to create an inviting dining area. For helm seating, you have six choices — two rows of three very comfortable perches — all shaded by the boat's hardtop. Bucket seats with shock-absorbing seat pedestals, fold-down armrests and flip-up bolsters in the first row feature two tiers of footrests on the console and individual fold-down footrests at the base of each seat. The two outside seats swivel outward and aft. Thanks to the elevated bridge deck and consistently level trim (even during acceleration), forward vision from the helm proved outstanding during our fishing trip. Enhancing the field of view are patented tempered-glass ¬console side windows that eliminate any distortion. The air-conditioned cabin within the 5300's center console boasts 6 feet 5 inches of headroom, with a galley featuring ebony wood-veneer cabinets and a Corian counter with a glass-bowl sink and fresh-water faucet; an enclosed head compartment with a vanity, porcelain toilet and shower; and a berth that ¬converts to a dinette or cabin seating.
So how did this big center-console perform? To get the answer, Hydra-Sports gathered their data with six crew, 350 gallons of fuel and 120 gallons of water in the livewells.
This full-tower Sport Fish Edition, powered by four Yamaha F350 outboards, turned Yamaha Saltwater Series II 17-pitch, three-blade stainless-steel propellers. From idle, the 5300 jumped to plane in four seconds, reaching 30 mph in eight seconds, en route to a top speed of 50.1 mph at 5,800 rpm, where the outboards consumed 132 ¬gallons of fuel per hour for 0.38 mpg. The optimum cruising speed occurred at 3,000 rpm and 21 mph, where the quad F350s burned 34.7 gallons per hour for 0.6 mpg. That equates to a 600-mile cruising range based on the 1,000-gallon fuel capacity.
HydraSports Custom's 5300 sets new benchmarks not only for size, but for construction technology and comfortable, user-friendly features. Any other center-console approaching this length will have a hard act to follow.
To view Waterfront's Center COnsole Listings, please view the link below.
Leave a Comment