Paws & Reels Fishing Tournament July 25th at Sailfish Marina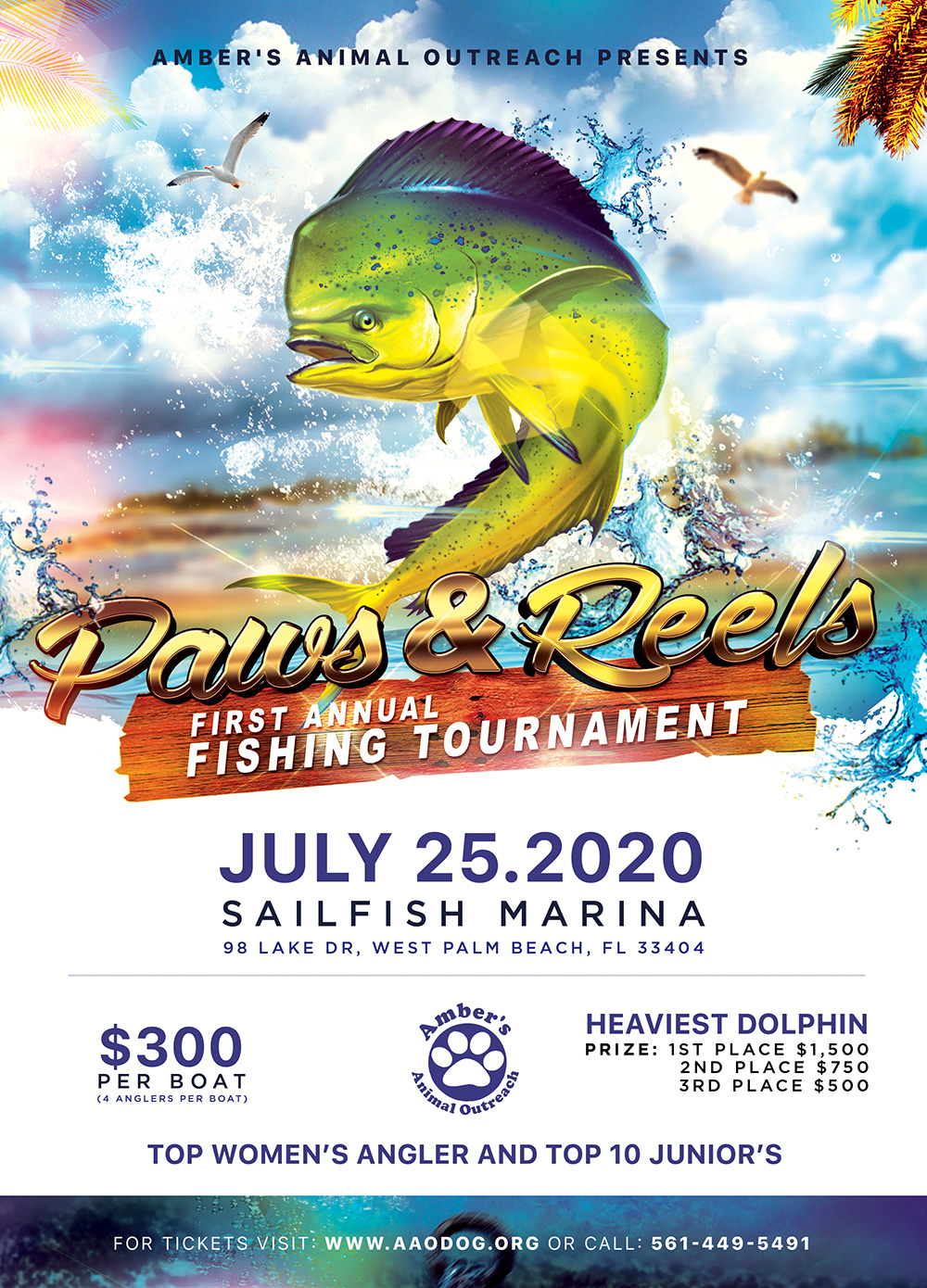 The Paws & Reels Fishing Tournament will be held at Sailfish Marina on Saturday, July 23rd and 25th, 2020 to fundraise for Amber's Animal Outreach, and we encourage you to register or sponsor. Here's the story behind this incredible tournament.
Amber Nelson may seem shy when you first meet her, but once you know her story, you'll find that she is a determined young girl who is making a huge difference in our community.
Amber has been volunteering at several dog rescues and has collected donations since she was 7 years old. She has been written up in the Broward Humane Society magazine for her truckloads of donations. She has received several certificates of Volunteer Appreciation from rescue groups, awarded Kohl's Cares Scholarship Program in recognition of outstanding volunteer efforts and contributions within the community, has been on the news promoting dogs to find their forever homes, and raised $4400 to build a Gazebo for a local rescue group to provide an area for quiet/quality time for the new adopters and their potential new family member. She has also raised thousands of dollars to help dogs in need get orthopedic surgery to live a pain free life.
In 2014, Ambers Animal Outreach, a 501c3 Non-Profit, was founded by Amber Nelson at the young age of 13 years old with the mission to serve dog owners and rescues by assisting with medical expenses, shelter, rescue, fostering, training, dog supplies, spay/neutering, and educating the public to prevent unnecessary population.
Now at the age of 19, Amber has a successful charity golf tournament, Paws & Putts On The Green, in its 6th year, and is debuting their first annual fishing tournament, Paws & Reels!
The Paws & Reels Fishing Tournament will be at Sailfish Marina on Saturday, July 25th, 2020, and the Captain's Dinner will take place on Thursday, July 23rd from 5:30-7:30pm at Sailfish Marina. Rob "The Fly" Navarro will be present to MC during our Captain's Dinner!
This will be a fun Dolphin-Only tournament and all proceeds will go to Amber's Animal Outreach. Categories will be 1st, 2nd, and 3rd place dolphin, Top Lady Angler, and the Top 10 Junior Anglers will receive a free Penn fishing rod.
To market your brand by sponsoring this charity tournament, please contact Tournament Director Lacey Hagler via call or text at 561-267-2674. Thank you to our current sponsors Waterfront Yacht Brokerage, Canvas Designers, and Fly Zone Fishing.
For registration, rules and regulations, please visit http://aaodog.org/paws-reels-tournament/.
Leave a Comment