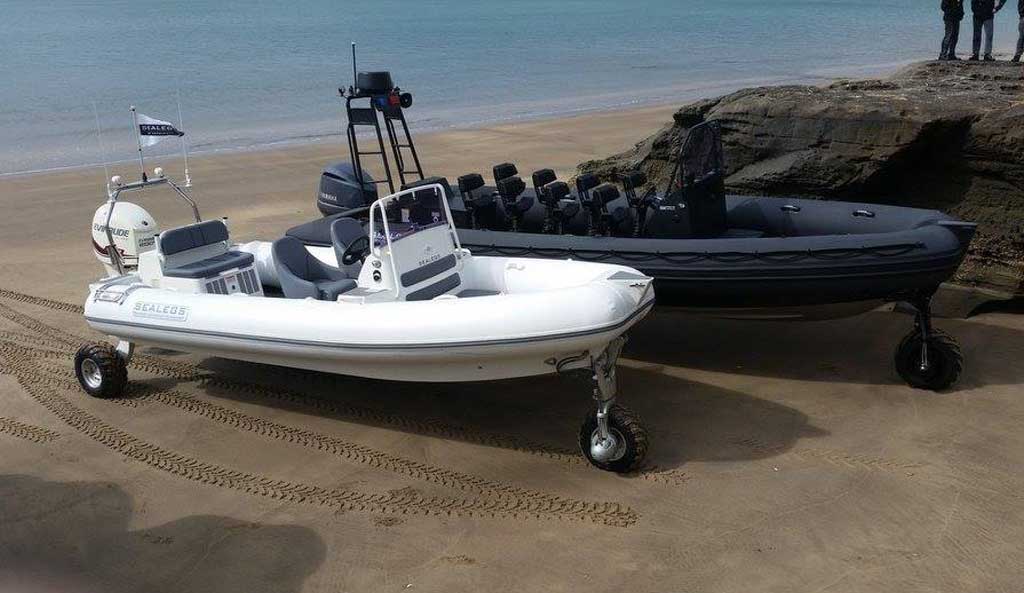 Photo By: @SEALEGS
Have you ever imagined having a boat that can also drive on land? Well, with Sealegs amphibious rigid inflatable boats (RIB), that is exactly what you get. Sealegs International was born ten years ago and operates out of its factory in Albany, New Zealand. The company started as a dream and now ten years later has grown into the largest amphibious boating manufacturer in the world. As of today, Sealegs has made over one thousand amphibious crafts that can be found in over forty countries around the world.
The founder of the company, Maurice Bryham, created Sealegs to remove the trouble of boat launching and retrieval. He knows the future of the company relies on quality manufacturing and engineering as well as the functionality and reliability of the craft in all extremes. They are purpose built as extremely versatile and reliable to offer the ability to perform tasks in areas once considered inaccessible.
The Sealegs crafts are an aluminum hull with two large inflation tubes on each side. They are equipped with three motorized, retractable, and steerable mini tractor wheels, two at the stern and one at the bow of the craft. Powered by an on-board 24 horsepower Honda driven hydraulic power pack, the craft has remarkable torque for crawling through sand and mud at about 7 miles per hour in either forward or reverse. However, it is only drivable for about 15 minutes without risking the Honda cooled engine to overheat, but, Sealegs offers an upgraded option to increase the speed and continuous drivability.
The crafts can be driven down a boat or the beach and into the water without anyone getting wet. A simple switch will engage the hydraulics to raise the wheels once afloat in the water and will drop them back down when it's time to crawl back out of the water. Once in the water, the craft is powered by an outboard motor of your choice.
Sealegs come standard with automatic braking system, all-wheel drive, power steering, 25-inch all terrain tires with 12-inch alloy rims, 6 chamber hypalon inflatable tubes, warning horn, anti-slip deck tread, automatic bilge pump, LED lights, and a 12-volt auxiliary socket.
Unfortunately, Sealegs are not road legal as of yet so they are mainly used by coast guards and police departments around the world. However, the company is focused and determined to provide expansion and diversification of their product to hopefully target all buyers in the future.
Leave a Comment