Waterfront Restaurant Cruising Guide: Palm Beach Inlet to Jupiter Sound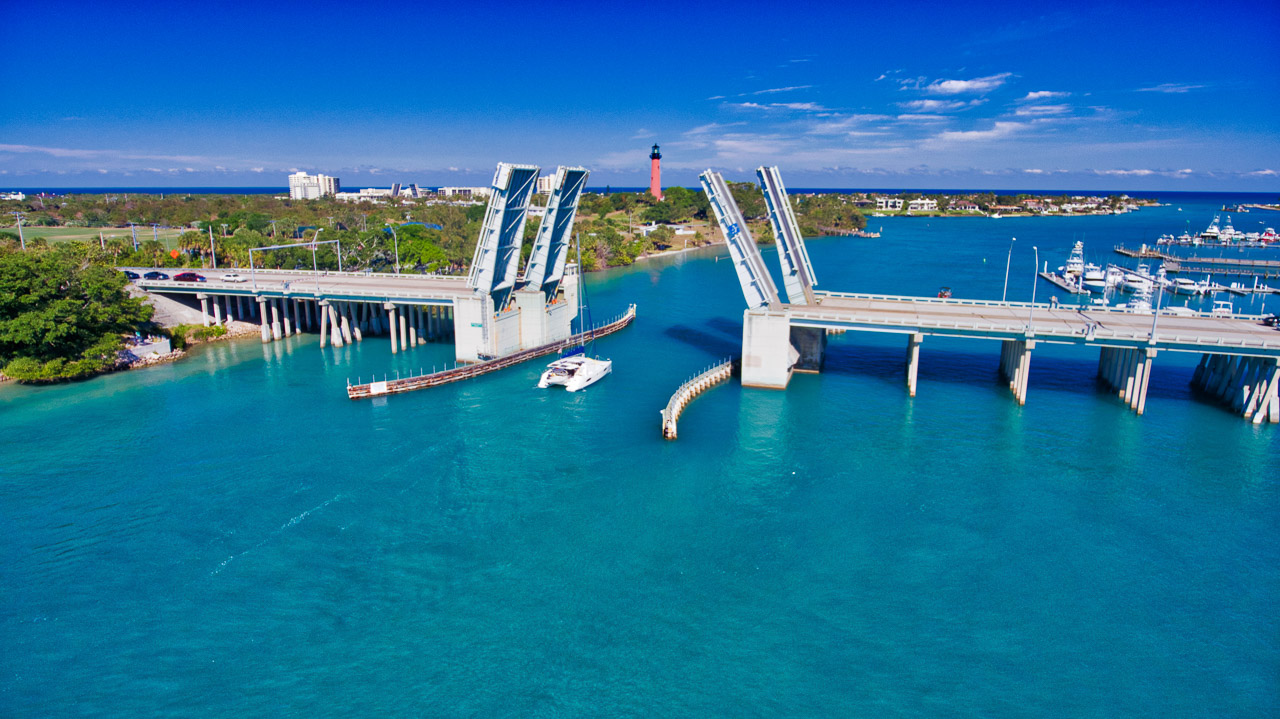 A "Sunday Funday" on the water is the perfect way to relax in the warm Florida sunshine with the ocean breeze on your face. The blue water and convenient variety of waterfront restaurants on the intracoastal waterway (ICW) from Palm Beach Inlet to Jupiter provides for the ultimate cruise. We've started at Palm Beach Inlet and worked our way up to Jupiter Sound with these nine waterfront restaurants worth adding to your bucket list!
Stop #1: Sailfish Marina, Singer Island
Voted the "Best Sunday Brunch" on Trip Advisor, it's only appropriate to kick off your Sunday shenanigans at Sailfish Marina on Singer Island. Overlooking Peanut Island, this well-known resort and fishing destination opens at 7am with a sprawling bloody mary bar and brunch buffet.
Stop #2: Frigate's Waterfront Bar & Grill, North Palm Beach
Head North in the ICW under the Blue Heron Bridge, past the first little island you see, Little Munyon Island, on your right, then take a quick detour through Earman River on the West side of the ICW. Right inside the mouth of the river before the bridge is Frigate's, also known for their buffet-style brunch including breakfast food, as well as unlimited sushi, a pasta bar, and bloody mary bar. The outdoor bar is located at the perfect spot to enjoy their conch salad served in a whole avocado and people watch as North Palm Beachers slow-cruise out on their way to Peanut Island. On Sundays, Frigate's opens at 9am.
Stop #3: Waterway Café, Palm Beach Gardens
Head North on the ICW from here and bear left after Munyon Island, the right at the fork all the way up to Waterway Café located on the left before the PGA Bridge. This open-air seafood spot is perfect to munch on some fish dip and refresh with the obligatory rum runner on their floating tiki bar.
Stop #4: BrickTop's, Palm Beach Gardens
On the North side of the PGA Bridge, BrickTop's is an excellent choice for a social stop on the chart. This high-end seafood restaurant caters to class and sophistication inside with a small bar dockside for a quick cocktail or fresh Palm Beach Salad featuring crab meat and poached shrimp.
Stop #5: Dive Bar Restaurant, Jupiter
Once you leave Palm Beach Gardens, it's about a 6-mile cruise through the ICW North to Jupiter, but it's well worth it. Arriving in Jupiter, Dive Bar is located on the East side at the Jupiter Yacht Club Marina, and offers the best sushi and sashimi on the water, as well as a full grill menu and tropic cocktails. If you're in awe of giant saltwater aquariums, this is a must-see!
Stop #6: Guanabanas Restaurant, Jupiter
Venture North under the Indiantown Bridge and go right at the fork for Guanabanas, a tropical hide-a-way covered by banyan trees and tiki huts. This Costa-Rican inspired local seafood restaurant is one of the most "instagrammed" restaurants in the area.
Stop #7: U-Tiki Beach, Jupiter
Cruise from Guanabanas West, then North to the Loxahatchee river, and East under U.S. Hwy 1 to U Tiki Beach. Featuring Caribbean food and drinks in an island setting, order fan-favorite appetizer tuna tostadas and must-try U-Tiki potatoes as a side with any meal. The food's delicious, and the view of the famous Jupiter Lighthouse is even better.
Stop #8: Square Grouper Tiki Bar, Jupiter
A stone's throw west of U-Tiki is Square Grouper, the laid-back pirate-themed tiki bar on the water known for live music, good bar eats, and rumored as being the recording location of "It's 5 O'Clock Somewhere" by Jimmy Buffet and Alan Jackson. This bar is 21-and-up, so leave the kids with a babysitter and bring your drinking shoes!
Stop #9: Tiki 52, Tequesta, ICW Marker 52
If you're still not ready to go home, Tiki 52 is about 1.5 miles up the Indian River at Blowing Rocks Marina. Beer, Wine, and casual bar food is available, as well as the live music of local favorite Anthony James. If you've made it this far, you'll have a lot to talk about on Monday morning!
Leave a Comment