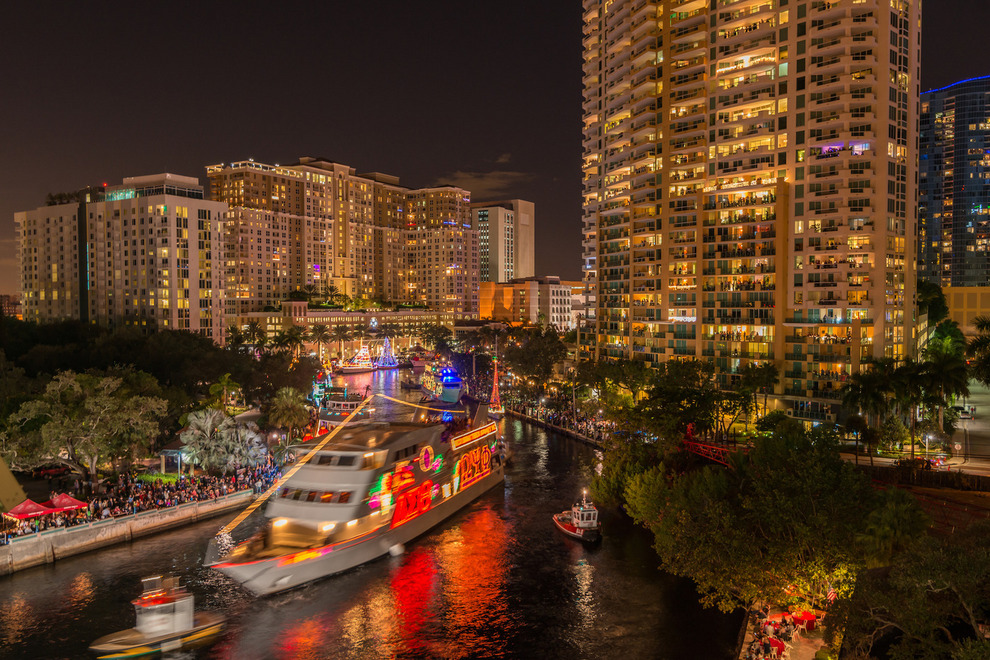 Photo By: Winterfest Boat Parade
If you are looking for some fun during this holiday season, look no further than the Seminole Hard Rock Winterfest Boat Parade. The parade is going to be held on December 10th from 6:30pm to 11:00pm. It will be the largest one-day live audience in Florida as well as one of the top 20 parades in the world. The Boat Parade will stage on the New River in downtown Fort Lauderdale, along the docks west of Stranahan House to the Broward Center for the Performing Arts. The Parade travels East to the Intracoastal Waterway as it continues North to Lake Santa Barbara in Pompano Beach. It's 12 Miles of the "Greatest Show on H20." The theme for this years 45th anniversary parade is "Comics and Cartoons Rockin' the Night Away". Private boats to the giant showboats and corporate megayachts will be adorned with hundreds of thousands of lights, music, entertainment, decorations, celebrities, musical groups, beauty queens and many other exciting entries expected to be viewed by over one million spectators.
Sponsorships are available for advertising your company or business. It is a great way to get the word out and receive lots of publicity as there will be 1 Million Parade spectators and millions more on television and the internet watching your Showboat promote your message to the masses. Guaranteed television coverage in our One Hour Television Special is guaranteed in these sponsorships. BOAT ENTRY with EVENT TICKETS: $8,000 entry with sponsorship designation. Winterfest works with decorators, charter boats, entertainment companies to create a party float with your special message in the Parade SHOW FLOAT SPONSORSHIP TURNKEY SHOWBOAT.
Whether you are looking for a fun day with the family or focused on business advertisement, this is a spectacular event that you don't want to miss out on as it happens only once a year.
To view more about the parade and how you can become a sponsor or enter your boat, please view the link below.
Leave a Comment